America's Best Built Trailers for Professional Haulers
Some companies have claimed that their trailers are "built just like Towmaster". We're flattered, but chances are they aren't. Towmaster has been building durable trailers for 4 decades and we have earned a reputation for designing and building one of the strongest and most durable trailers on the market. This doesn't come cheap. It's expensive not to cut corners, but we feel our reputation is on the line and we aren't about to sacrifice our reputation.
We are a full-fledged trailer and truck body manufacturing plant with an engineering staff and professional craftsmen cutting and welding steel and forming it into a high-quality product. There are differences in how a product is designed and built, and Towmaster makes sure that its products are built tough.
To really compare our trailers to the competition, look for the subtle differences. From the outside they may look the same, but some competitors use lower-priced components and thinner steel. The old adage "you get what you pay for" holds true. If a trailer is priced significantly less than a Towmaster, it isn't built like a Towmaster no matter what they say. Savings are being made somewhere and corners are being cut. If your needs are for an occasional hauler, you can get by with a less expensive solution, but there is a reason professionals use Towmaster trailers. It's because they depend on their equipment day-in and day-out. That is why Towmaster is America's Best Built Trailers for Professional Haulers.
Let's take a closer look: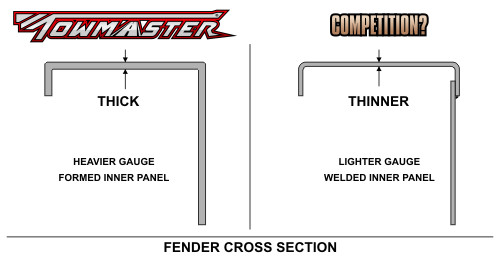 Towmaster uses heavy-duty frame materials and thicker steel. Some manufacturers may use components that look similar, but are thinner. Towmaster also uses I-beam for most frames and crossmembers while others use angle-iron. I-beam is more expensive and harder to work with, but it is also stronger.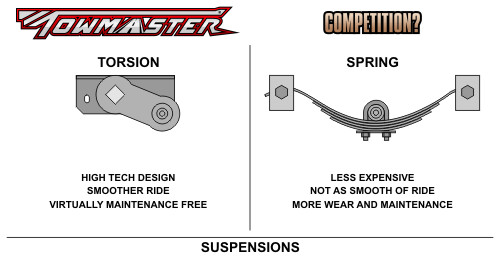 The standard suspension Towmaster uses on their drop-deck and some deck-over trailers is the torsion design. This design offers a smooth ride and is easy to pull. It also has virtually no maintenance. It's a little more expensive, but adds to our quality product. Other manufactures utilize a spring suspension. While a decent suspension, it is susceptible to more maintenance and wear parts and needs adjusting more often. If they offer the torsion suspension, it will likely be at a premium cost.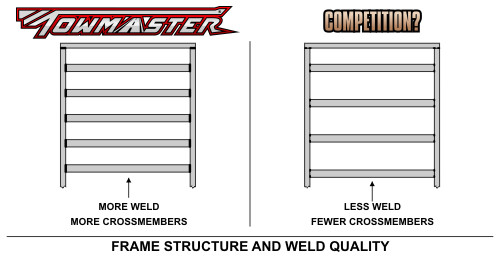 Compare the trailer frames of a Towmaster and our competition. You'll notice a much stronger frame design with more welds and more steel. If the competition uses less weld and less steel, that reflects in their price. It may save some money, but their frames are not as strong or as safe as a Towmaster frame. For Towmaster, there is no price savings that justifies reducing safety.
"We Build Hundreds of Trailer Models"
Some trailer manufacturers claim to build hundreds of models, but what do they consider a "model"? And does that make them a better manufacturer?

Towmaster builds models specific for professionals in many market segments. Building "hundreds of models" may be akin to being "jack of all trades, masters of none". We are masters when it comes to trailers. Towmaster builds trailers for the construction equipment and rental markets. We offer over 55 different models in 8 family categories, in several deck lengths with numerous options. Chances are, we build a model that fits your needs perfectly, and we can customize a trailer if you need something more specific.
"Have it Your Way"
Some claim they will build a trailer any way you want it.  It's a great marketing tag line, but in reality there are so many physical and regulatory limitations that "having it your way" doesn't make sense or simply isn't possible. When it comes down to it, you just need to haul equipment. Towmaster trailers will do it safely and for a long time because they are built to. They won't fall apart after a few years of use. With our numerous options, we can also configure a trailer for your specific needs. We can even custom design something to haul specialized equipment.
American Made
Made in the USA means something at Towmaster. While we can't always control every parts that go into components we put on the trailers, we do control where the trailers are built. They are built by the hearty people in Minnesota, USA. From concept to design, fabrication to welding, decking to finishing, these trailers are built tough and built in America. That keeps jobs here and boosts the economy. We take advantage of a skilled workforce and dedicated people, not cheap labor. Is it worth spending a few more dollars to keep jobs in the US? We certainly think so, and we're doing our part. Are you doing yours?
Need more?
Check out this page to learn more on why it makes sense to invest in a Towmaster trailer.
This is why we say that Towmaster is America's Best Trailers for Professional Haulers.
How can you argue with that?